Roller Blinds in Hull & East Yorkshire
Sandridge Blinds offer a comprehensive range of quality roller blinds in a large variety of colours and patterns to suit all types of homes and offices. Our range of blinds including new perfect fit roller blinds can be viewed in our extensive showroom in Hull, East Yorkshire.
A variety of roller systems to suit specialist situations are offered. We can demonstrate the options of motorisation with cassettes and facias to compliment any installation. Components options are available in White Anthracite Brown & Black. Chain colour options in standard nylon white brown or black, steel or brass. The large ranges of fabrics available have many specialist finishes, Thermal Efficiency, Translucent shades, Blackouts, Disney Blackouts, Jacquards, Textured naturals, Cassette Rollers Urban Designs.
Roller tubes are available in 32mm, 40mm and 45mm diameter to safely cover up to 3 meters in width and up to 3metres drop. Premier quality aluminium roller tubes and bottom rails are designed with patented fabric fixing slots ensuring fabrics remain firmly attached to the roller and bottom rails. All chain control units in all sizes incorporate the unique safety first end cap locking system.
Over 600 fabric choices reflecting the diversity of fabrics available across many ranges to suit every application.
Many Specialist Fabrics include
Large ranges of flame retardant fabrics
SPC solar protective coated fabrics for VDU and Conservatory.
Many textured Jacquard fabrics to introduce subtle designs.
Hundreds of plain colours to match or coordinate designs.
Modern & traditional printed designs to select from.
Matching Louvre & Pleated fabrics also available
Blackout Roller Blinds
Ask about our blackout blinds. There are lots of colours and textures available in Blackout fabric so you don't have to follow Mr Henry Ford's example. If you would like a pink, blue or Disney film print for the nursery, it's no problem! Many fabrics colours are available in roller blind and louvre blind ranges.
Bifold Doors Roller Blinds
Sandridge Blinds Hull supply and install roller blinds for bifold doors. See an example in the video below: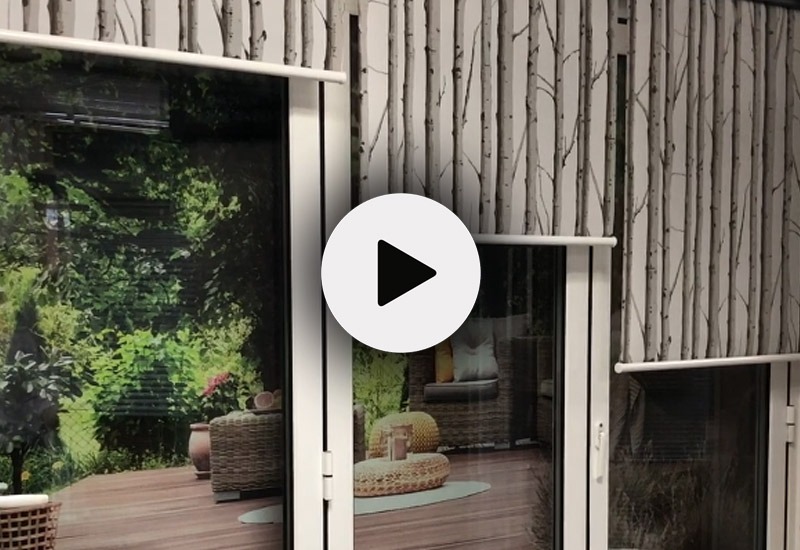 Create & Inspire
Roller blinds are custom made with a large range of scallop styles. Why not shape up your blind from our premier selection of modern and traditional poles, pulls and finials. Components are available in many colours and finishes to enhance your room. All of our blinds are made with full braid trim front and back. The large ranges of fabrics have many specialist finishes, Thermal Efficiency, Translucent shades, Blackouts, Jacquards, Textured naturals, Cassette Rollers Urban Designs.
Thermally Efficient Window Blinds
Fabrics are tested to give an energy saving classification of ER1, ER2, or ER3 to give an indication of cost saving, ER1 being the highest saving and ER3 up to 10% per year. These fabrics will also reduce the carbon footprint of your home.
Cassette Blinds
Sandridge Blinds unique profiled cassette system allows ease of installation, in, or over a recess. It is available with a choice of operating chains, motor or spring control. It is the perfect finish to any window. Made from smooth white powder coated aluminium profiles and nylon fittings. Suitable for use in any roller blind installation. A very smart alternative to the standard roller.
For more information about our range of roller blinds, please contact us today on 01482 492662. Alternatively you can drop by our showroom to view samples of our products.
Register Your Interest
Register Your Interest
Click the button to register your interest today. We offer FREE home and business visits, FREE quotations and FREE installations in Hull & East Yorkshire.
Register Your Interest
Get in Touch
Contact Sandridge Shutters today with any queries you have
If you have any queries at all please don't hesitate to contact us and one of our friendly advisors will be happy to help you.
sales@sandridgeblinds.co.uk
Sandridge Blinds
291 National Avenue,
Hull,
East Yorkshire
HU5 4JB
Our Showroom
To choose your shutters in a relaxed atmosphere, call in to one of the best showrooms in the UK
Based on National Avenue in Hull, we have one of the largest displays and best equipped showrooms in the UK. Drop by our showroom today to view the wide range of shutters we supply and see samples of our products.
Our highly experienced showroom staff will be on hand to answer any questions you may have and to offer expert advice. We will be happy to help you choose the best shutters to suit your requirements.